Felinheli man reunited with message in bottle after 25 years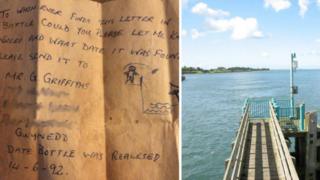 A message in a bottle which a man threw out to sea has been reunited with him after nearly 25 years.
Gwynfor Griffiths, 44, threw the bottle from Caernarfon pier, Gwynedd, in 1992, including his name and address.
Jonathan Scott, 44, found it 23 years later while windsurfing on a beach 40 miles away and found Mr Griffiths after a Facebook appeal.
Mr Griffiths said: "I honestly didn't think anything would come of this letter and I'd forgotten all about it."
The message asked whomever found it to get in touch with Mr Griffiths, who still lives at the same address in Felinheli.
He added: "I think me and a friend were just bored, she wrote it for me and I signed it, then we threw it off the pier. We thought 'why not, lets see what happens'."
Mr Scott said: "This has all been so overwhelming. I came across the message in a bottle and put it in a box of memories.
"Then life happened and I completely forgot about it until recently.
"One night, a friend of mine suggested I put a picture on Facebook to see if we could track down the writer.
"I'll be sad to see the letter go if he wants it back. I've had it for such a long time."