Anglesey rower's 'leap of faith' in Atlantic rescue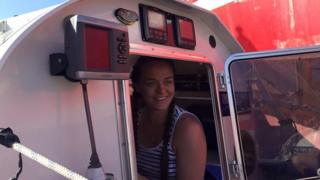 An Anglesey woman has described how her daughter had to make a "leap of faith" to safety after her team's rowing boat capsized while crossing the Atlantic.
Olivia Wilson, 28, and three crew members were rescued off the west coast of Africa on Sunday after being stranded for 16 hours.
Her mother Jan Wilson, of Pentre Berw, said she was "so relieved" when Ms Wilson called her to say she was safe.
"It was a very tricky rescue," she added.
"The conditions were awful... it was so rough, they had difficulty getting on board the ship. All the girls had to climb onto a rope ladder.
"Livvi was last to leave the rowing boat. She told me she just had to make a leap of faith on to the ladder and then climb up to the deck."
Ms Wilson and her team mates - Gemma Chalk, Clare Lanyon and Jane McIntosh - were trying to break the women's speed record for rowing nearly 3,000 miles across the Atlantic from Gran Canaria to Barbados.
But they had to send a distress signal on Saturday morning when they were 400 nautical miles from Cape Verde.
Mrs Wilson said: "Their rowing boat had capsized several times in big seas. They'd lost their satellite navigation and positioning equipment and their oars were broken.
"There was no way they could carry on."
Mrs Wilson said her daughter, who used to serve in the Army, and team mates had spent a year preparing for their adventure, hoping to raise £20,000 for Barnardo's children's charity.
"It's such a relief to know that they're safe," she said.
The rescue cargo ship is due to arrive in Quebec, Canada, next week and the women are expected to fly home from there.