Llandudno Air Show 2016 cancelled due to safety changes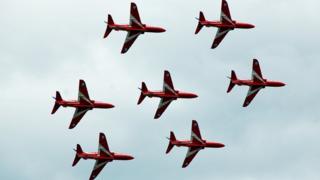 Llandudno's planned annual air show has been cancelled due to the time need to implement new rules, organisers said.
The Civil Aviation Authority tightened safety at all shows after the Shoreham air crash in Sussex claimed 11 lives last year.
Edward Hiller said he hoped Llandudno's show would return in 2017.
"We are extremely disappointed," said Mr Hiller, managing director of land owners Mostyn Estates, which hosts the event.
Organisers of the Wales National Air Show in Swansea, Rhyl Air Show, the Bob Jones Memorial Air Show in Welshpool and Wings Over Carew air show in Pembrokeshire said their events would go ahead as planned.