Bird 'photobombs' railway webcam at Abergynolwyn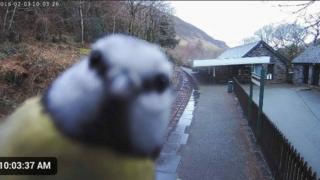 It was a case of beak-a-boo when a bird "photobombed" a web camera mounted at a railway station in north west Wales.
It looked into the lens at Abergynolwyn Station, in Gwynedd, on the Talyllyn Railway - the world's oldest passenger-carrying narrow-gauge line.
The image shows the feathered friend peering into shot on Wednesday morning.
The phrase "photobomb" - to spoil a picture by unexpectedly appearing in shot - was added to the Collins English dictionary in 2014.