£1.1bn MoD investment 'secures future' of RAF Valley on Anglesey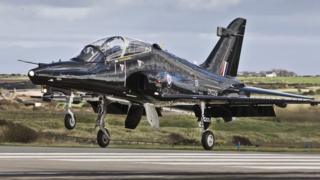 RAF Valley will remain a fast jet training base until "at least 2033" as part of a £1.1bn investment across several sites, it has been confirmed.
The Ministry of Defence said it had placed a contract with Ascent Flight Training, which provides basic pilot training for the forces.
The Anglesey base, where fast jet training takes place, will gain 10 new aircraft under the investment.
An MoD spokesman said it would "secure the base's future".
Valley is one of several bases to benefit from the investment, although the MoD would not confirm what share of the sum it would receive.
The consortium is set to acquire 10 American-made Beechcraft T-6C Texan turboprop aircraft, which are expected to be operational by 2019.
All initial fast jet training takes place at RAF Valley with the Hawk T2 aircraft.
"This contract is great news for the future of our military aircrew, providing them with a modern training system which will equip them to deliver on the front line," the MoD spokesman said.
"Fast Jet flying training already conducted at RAF Valley, contracted under UKMFTS [UK Military Flying Training System] since 2008, will continue out to at least 2033, securing the base's future."