New Dean of Bangor Kathy Jones appointed to role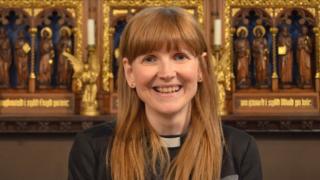 The new Dean of Bangor will be installed on Saturday in front of a congregation at the city's cathedral.
Kathy Jones, 47, from Corris, Gwynedd, previously worked as an NHS lead chaplain and visiting lecturer.
The Very Reverend Jones, who was ordained at Bangor Cathedral in 1992, said: "It's very much like coming home. I'm looking forward to working in the city again."
Bishop of Bangor, Andy John, praised her "depth of experience".
Meanwhile, the Church in Wales has defended spending £450,000 on a house for the new dean, rather than have her living in the Deanery as her predecessors did.
A spokeswoman said, due to its location, it could be subjected to "noise and anti-social behaviour, especially late at night" and there were "severe challenges" surrounding its shape.
This decision was taken by the parsonage board using donated money "legally restricted for use on clergy houses" which could not be used for other purposes, the spokeswoman added.