Greenwood Forest Park Ltd's £45k fine for zip wire death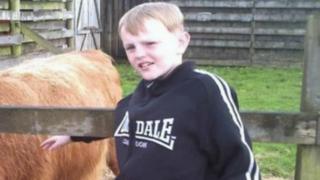 A firm has been fined £45,000 for failing to ensure the safety of an 11-year-old boy who died after being wrongly attached to a zip wire ride.
Bailey Sumner-Lonsdale, from Blackpool, died from head injuries in April 2011.
The SwampFlyer ride at Greenwood Forest Park near Caernarfon, Gwynedd, had been open only a week when the incident happened.
Park operator Greenwood Forest Park Ltd admitted breaching health and safety regulations at Caernarfon Crown Court.
The court heard Bailey fell a "considerable distance" after his harness was incorrectly attached to the ride through a false loop.
The hearing was told once the false loop had failed "there was no going back and there was nothing to stop him falling".
Greenwood Forest Park Ltd said it wanted to make an "unreserved apology" to Bailey's family and the public.
Since the incident, managing director Stephen Bristow has dedicated himself to ensuring standards have improved, the court heard.
The firm was also ordered to pay £64,000 court costs.
Gwynedd council, which instigated the prosecution, said after the hearing that it had been "a difficult and complex case".
"Following the investigation and hearing, the adjudication confirms the need for site owners to ensure the public's safety at all times," said council cabinet member Dafydd Meurig.