Sailor Tybalt Peake's Arctic ice collapse escape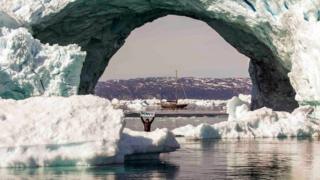 A teenage sailor had a lucky escape sailing around the Arctic Circle when a huge ice arch collapsed moments after he posed for a picture underneath it.
Tybalt Peake, 15, from Capel Curig, Conwy county, wanted to stay longer but his two adult companions stopped him.
About 10 minutes later, part of the 100m (328ft) arch near Greenland began to shudder before collapsing.
"It was a good job I was not under it. I would have been killed. It was quite nerve-wracking," he said.
Last year, the explorer became the youngest Britain to sail the Northwest Passage.