Parents crossing rail tracks with prams at Blaenau Ffestiniog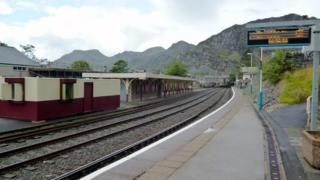 Transport police have urged parents to stop taking a shortcut across railway tracks with babies in prams.
Police patrols have been stepped up to tackle trespassing and anti-social behaviour at Blaenau Ffestiniog railway station, Gwynedd.
Sgt Gemma Jones of British Transport Police said: "Astonishingly, parents have been crossing the tracks with prams.
"It goes without saying how incredibly dangerous this is."
She added: "It is staggering that people are willing to risk everything by entering the railway - doing so with a baby in tow simply defies belief.
"Their behaviour is utterly reprehensible."