Conwy farmer's horror as 170 sheep swept away in flood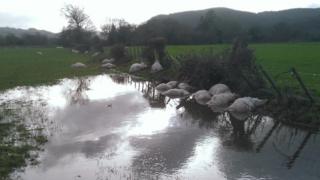 A farmer has described how he swam for four hours in freezing flood water to rescue his flock after 170 sheep were swept away.
Paul Williams's animals were swept away in a torrent of water when a section of embankment gave way near Llanrwst, Conwy.
He lost 66 sheep despite frantic efforts to rescue them.
Mr Williams said the flood water "engulfed them in seconds... it was surreal".
The farmer said he received a flood warning at shortly before 01:00 GMT last Thursday and immediately checked his sheep.
At the time his animals were on higher ground and safe. However, when he returned later that morning the sheep were up to their knees in flood water.
"I stayed for an hour and then, just as I started to leave, I heard a rushing sound - flowing water," he said.
"I looked to my left and the water engulfed them in seconds. It was surreal."
Despite a joint rescue effort by the farmer, a local vet, the RSPCA and Ogwen Valley Mountain Rescue Team, 66 sheep died.
He told the Daily Post: "It's left a huge hole in the business - I'll be short of ewe lamb replacements next year - but no humans died and no property was destroyed, unlike what happened in Cumbria.
"It may take us a while, but we will come back from this."