Road dangers hampering Anglesey red squirrel resurgence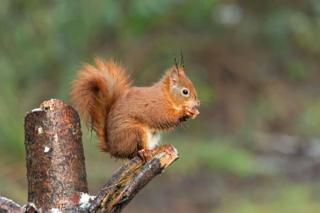 Road accidents are hampering the resurgence of the red squirrel on Anglesey.
The animal had almost disappeared from the UK after its grey cousin brought the killer squirrelpox virus from America in the 1800s.
But a programme to eradicate the grey squirrel has seen the numbers of reds rise from 40 to 700 on Anglesey.
The Red Squirrels Trust Wales found 48% of deaths since 2004 were on Anglesey's roads, with none from squirrelpox.
A study, conducted alongside the Animal and Plant Health Agency also found a high number died after contracting infectious diseases near squirrel feeders that had not been regularly disinfected.