Bear Grylls criticised for involving 11-year-old son in exercise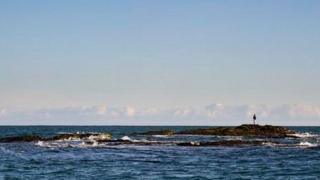 Survival expert Bear Grylls has been criticised for involving his 11-year-old son in a training exercise in Gwynedd.
On Thursday, Grylls tweeted a picture of his son off Abersoch with the caption: "Jesse and the @rnli on a training exercise to rescue him off the rocks!"
But Abersoch RNLI's manager later told the Daily Post: "I certainly wouldn't put my young son on those rocks".
Grylls has been approached for comment.
Gareth Hughes told the paper he had only learnt of the exercise after returning from a holiday.
He said: "As I understand it, it was supposed to be a low key exercise.
"I believe no photographs were supposed to be taken.
"The crew tell me they didn't know Bear's son was going to be on the rocks, as there is an element of risk.
"I certainly wouldn't put my young son on those rocks, and also it could encourage people to do the same which would be unfortunate.
"No one was thankfully hurt, but in his efforts to give the RNLI some publicity this is the wrong kind."
The tweet is no longer available on Grylls' Twitter profile page.
'Great ambassador'
The RNLI's Divisional Operations Manager Lee Firman said: "The RNLI has worked with Bear Grylls over a number of years and he has been a great ambassador which we are very grateful for.
"Last Thursday, on their normal training evening, the crew at Abersoch agreed to carry out a joint exercise with Bear.
"The lifeboat and its crew was in close attendance and the boy was in sight at all times and wearing a life jacket."