Peulwys Estate in Conwy is first to win Green Flag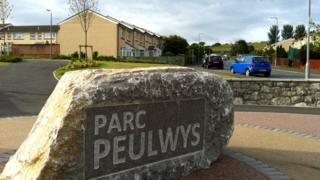 A housing estate in Conwy has become the first in Wales to scoop a Green Flag Award.
It comes after Peulwys Estate, in Colwyn Bay, managed by the housing association Cartrefi Conwy, had a £4m revamp.
The flags are awarded in recognition of the best green spaces.
Cartrefi Conwy boss Andrew Bowden called it an "absolute honour". He said the estate had enjoyed a cultural and environmental change.
"The strength and success of this project came from the local community who gave over 500 hours of volunteering along with the creation of training and employment opportunities," he added.
"By investing in the economic, environmental and regeneration of Peulwys at the same time we've given residents a place where they feel proud to live and have a stake in maintaining Parc Peulwys."