Conwy jester to take new job 'seriously'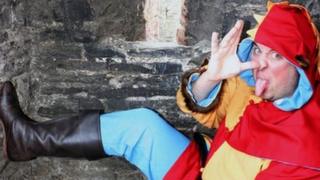 Getting a new job is no laughing matter unless you are willing to make a fool of yourself in Conwy.
That is exactly what Erwyd le Fol (aka Russell Erwood) has agreed to do by becoming the town's first jester-in-residence since the 13th Century.
The 34-year-old will have a naming ceremony on 2 August before starting his jester japes.
Paid for by the town's chamber of trade, he will attend functions wearing a hat with donkey ears.
He will be performing at a number of official functions in the area such as its local seed and honey fairs plus other civic dates.
---
Castle's first fool
In the winter of 1294-95, King Edward I was besieged by the Welsh at Conwy, forcing him to stay within the castle's walls in the town
Edward's personal jester, Tom le Fol, stayed at the castle throughout the three-month siege, entertaining all who lived there
720 years later, Conwy appoints a new jester-in-residence, Erwyd le Fol
---
Mr le Fol, who moved to Conwy from London in October, said: "If there's a town in the world that should have a jester it's Conwy.
"There's a castle, there's walls, there's even a knight shop selling armour, so it's only right there is a jester.
"The locals and the tourists love it and I love it. The reaction has been amazing.
"Being a fool is great. I'm taking my job seriously, well as serious as a jester can.
"My life is making people smile and it's amazing I get to do it every day."