Man, 74, dies trying to save swimmers at Tywyn beach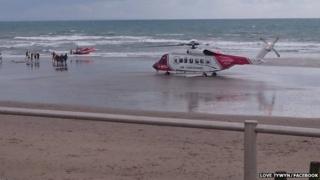 A man has died after attempting to rescue two teenage girls who got into difficulty in the sea in Gwynedd.
The 74-year-old was recovered unconscious from the water at Tywyn, by a crew from Aberdovey RNLI Lifeboat at 16:14 BST on Saturday.
He was flown to hospital by the coastguard rescue helicopter but later died.
The girls were taken to hospital as a precaution.
Tywyn councillor Mark Kendall said: "From what I've been told the man was alive when he was airlifted from the beach but died in Ysbyty Gwynedd in Bangor later.
"At the time the helicopter and lifeboat were still looking for more than one person in the water as the girls still hadn't been rescued at the time.
"He went in to save them but got into difficulty himself."
Councillor Alun Wyn Evans, from Tywyn, said he was "completely shocked" at the news and said the sea at Tywyn beach was not known for being dangerous.
"As far as I know, this is the first incident of this kind I can remember on Tywyn beach," he said.
In a separate incident, three people including a 16-year-old boy and a 14-year-old girl, were rescued from the sea in Harlech at about 15:30 BST on Saturday.
Harlech Coastguard team, Criccieth RNLI Lifeboat, North Wales Police and paramedics were involved in the rescue.
In Llandudno, a 15-year-old boy broke his ankle after jumping into the sea at the foot of the Great Orme headland on Saturday evening.
He was pulled from the water by friends after injuring himself on a rock and was taken to hospital.
North Wales Police warned people to take extra care in the sea and to avoid taking risks.