Welsh row parking ticket cancelled by Gwynedd council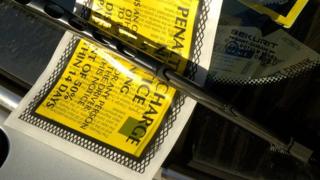 A council has apologised to a motorist after not dealing with complaints about a parking ticket through the medium of Welsh - and has cancelled the fine.
The issue was reported to Gwynedd council's language committee.
The council's language policy says the public has the right to use any of its services in Welsh or English.
Gwynedd has the highest percentage of people in Wales who speak the language - at 65%.
The 2011 Census found 19% of people in Wales are able to speak Welsh.
The council report said its regulatory department dealt with the complaint and "abolished the parking ticket that was owed due to the special circumstances of the complainant at the time".
A council spokesperson rejected an earlier suggestion that the ticket had been cancelled because the traffic warden was not a Welsh speaker.