Brothers jailed for Anglesey rooftop stand-off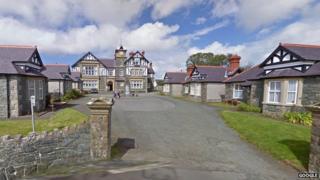 Two brothers have both been jailed for a "yobbish" three-hour rooftop stand-off with police on Anglesey.
The pair climbed onto a building in the village of Newborough on 13 May, and refused to come down - hurling tiles at those below.
David Lewis, 27, from Newborough, received a 10 month sentence and his brother Kevin Oliver, 21, from Caernarfon, Gwynedd, eight months.
The Caernarfon Crown Court judge described their actions as "mindless".
A police negotiator, fire crews and ambulance staff had to attend the incident, when the brothers climbed onto a single-storey building at the Pritchard-Jones Institute in the village.
"This was a prolonged incident. It had an effect on the day-to-day life of the small community where it happened," said Judge Niclas Parry.
"You were running amok, attacking the fabric of what is an important village hall."
The two men were also ordered to pay £150 criminal court costs, after admitting causing a public nuisance and criminal damage.
Jailing them, Judge Parry added: "You have both admitted anti-social crime of the kind that has to be stamped out, gratuitous criminal damage, the abuse of police officers, simply for the fun of it."