Cancer patient's England-only treatment shrinks tumour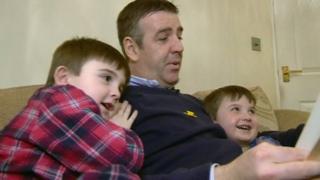 A Gwynedd man who moved to England for bowel cancer treatment has been told his condition has improved.
Irfon Williams's tumour shrank from 8cm (3.1in) to 3.5cm (1.3in) after he was treated with Cetuximab, a drug not available in Wales that can be obtained through England's Cancer Drugs Fund.
Mr Williams, 44, from Bangor, moved in with a relative in Manchester in order to receive treatment over the border.
The Welsh government said people can access proven and effective treatments.
Mr Williams told ITV Wales he felt "let down" that he had to move to obtain the treatment.
"I'm infuriated," he told the Byd Ar Bedwar programme.
"I was obviously concerned about the result, but when we got the good news, better than what anyone had expected, it was a fantastic feeling."
He added that he was "grateful" for what he was offered when he was treated at the Christie NHS Foundatrion Trust.
"That's what is difficult to live with, the fact that I feel let down by my own country," he said.
Mr Williams, a manager in the north Wales health service, will find out by 20 June whether or not the tumour can be operated on.
The Welsh government said cancer patients are often treated quicker in Wales and that England's drugs fund is not always helpful to patients.
The full story about Mr Williams will be shown on ITV's Byd ar Bedwar on 23 June.