Triathlete who died during Bala race named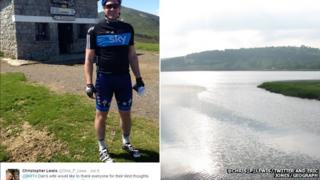 A triathlete who died while taking part in an event in Gwynedd has been named.
Daniel Cavanagh, 40, from Birkenhead, Wirral, was on the bike leg of the Bala Middle Distance Triathlon on Sunday when he became unwell.
The coroner has started an investigation in to his death.
The race, which involved a 2,000 metre (1.2m) swim, 78.5km (49m) bike and 20km (12.4m) run, was called off following Mr Cavanagh's death.
Mr Cavanagh was paid tribute to on Twitter, including by Chris Lewis, who wrote: "Dan's wife would like to thank everyone for their kind thoughts following his tragic death."