Caernarfon rapist, 74, jailed for further sex assault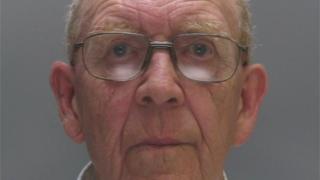 A 74-year-old man jailed for raping a young woman has admitted sexually assaulting a woman with learning disabilities whom he had befriended.
Malcolm Donaldson, from Caernarfon, was sentenced to 18 months in prison after pleading guilty to the latest offence.
Caernarfon Crown Court heard his victim, a woman in her 50s, had a learning disability but lived independently in the community.
Earlier this month he was jailed for 11 years for a rape in Prestatyn.
'Took advantage'
Sentencing Donaldson for the latest conviction, Judge Merfyn Hughes said: "You were aware of her vulnerability and you took advantage of her.
"You have been given credit for your guilty plea, which has avoided your victim from having to give evidence."
But the judge said he also had to take into account that Donaldson had been before the court on 16 April for the rape of a 24-year-old woman.
This victim in that case had woken up semi-naked in a field with no memory of the attack, but Donaldson's DNA was found on her body.
He had claimed he was in bed, 45 miles away, at the time of the attack but was found guilty.
The judge told Donaldson the sentence for the sexual assault must run consecutively with the sentence he was already serving for rape.
Another four charges of sexually assaulting the woman with learning disabilities were ordered to lie on file.