Bird of prey poisoners targeted in police operation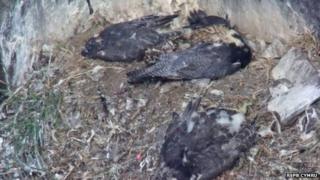 People poisoning endangered birds of prey are being targeted by a campaign to halt the cruel practice, North Wales Police has said.
Five peregrine falcons died in two separate suspected poisonings in Gwynedd last year.
A buzzard is being tested after it was found dead in suspicious circumstances in Llanfair Talhaiarn, Conwy.
North Wales Police's rural policing team has now launched Operation Raptor to discourage would-be bird poisoners.
Sgt Rob Taylor said it is an awareness campaign to warn offenders they could face a fine or even jail time if they are caught.
"We know it's happening, we know how they do it. If we catch somebody who is doing it, they will go to court", he said.
Sgt Taylor said evidence suggests people were targeting peregrine falcons to prevent them from killing prize racing pigeons.
In previous years peregrines have been killed in Conwy and red kites in Powys.