Bangor University's Ugly Foods Shop opens its doors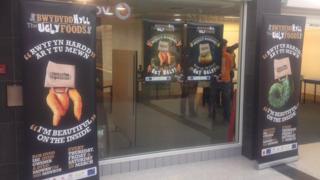 A shop selling "imperfect" fruit and veg is opening its doors as part of a project in north Wales.
The Ugly Foods Shop focuses on produce that might not be viewed good enough to reach supermarket shelves, but is perfectly edible.
Bangor University students running the store hope to change shoppers' perceptions of mis-shaped or blemished food.
The shop project will initially run for a month.
The venue in the Deiniol Centre has been provided in a vacant store by the city council.
If successful, the project could be extended.
Masters student Dan Taylor, who manages the shop, said produce ranges from apples and oranges that are considered too small for supermarkets, to carrots and other vegetables that might be mis-shaped.
He added: "I think that we can help the environment, we can help farmers by eating the food that they provide and learning a bit about the produce that they create."
Lowri Owen from the university said: "Bangor University encourages its students to be entrepreneurial and consider the option of self-employment and starting their own business.
"While they may not all become involved in retail, taking part in this project provides them with a foretaste of running their own business and helps them to develop the employability skills required by employers."