Conwy council asked to improve Llanrwst fish spawning grounds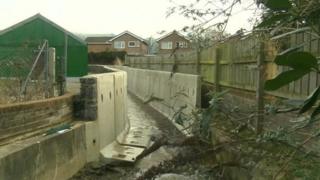 An investigation has been called for into how fish spawning grounds can be improved in a Conwy Valley stream.
Natural Resources Wales (NRW) wants improvements made after a Conwy council scheme to install flood defences was carried out near the Llanrwst stream.
Dredged material was supposed to provide a natural gravel bed for fish to spawn there after the work was done.
The material was deemed unsuitable, however, and NRW claims the stream still cannot support a fish population.
Six months after the flood defence work was completed, NRW said the part of the stream near Nant Cae Person had insufficient gravel for a spawning ground.
It has now asked the council to restore some of the natural habitat and processes to improve the breeding areas.
Tim Jones, of north and mid Wales for NRW, said the council had agreed to seek independent advice to find a solution.
The request comes less than a month after NRW itself was blamed for allowing part of the stream to be destroyed during the flooding prevention work.