Service remembering eight US airmen held on Anglesey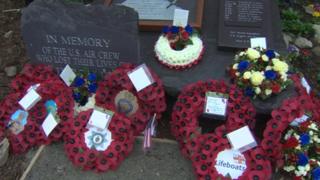 A simultaneous memorial service has been held on Anglesey and in the United States to mark the 70th anniversary of the death of eight US airmen.
On 22 December 1944 the fliers were aboard the US Eighth Airforce B-24 Bomber - the "Jigs Up" - which ran out of fuel trying to land at RAF Valley.
The airmen parachuted out but they were still over the sea and they died.
An open air service of remembrance was held at Holyhead on Sunday and poppies were laid at sea.
There was also a service in North Carolina where one of the aircraft's propellers is in a US military museum.
Jeff Evans, of the North Stack Memorial Group, said: "It's only fitting that we remember those Allies who ensured today we have freedom.
"It will be an opportunity for everyone to show respect and honour those who died so we can live."