Homeless man in cave in Llandudno given a home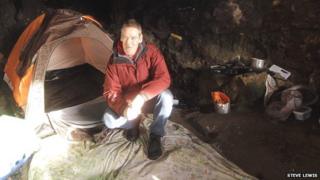 A homeless man living in a cave over-looking a seaside resort has been found accommodation by a local help group which runs on donations.
Ray Burton, 52, had feared he would spend Christmas in a tent in the cave on Llandudno's Great Orme.
But the founder of Hope Restored, which supports local homeless people, says she has found him a flat.
Mr Burton's plight was featured in the Daily Post which prompted people to come forward with offers of help.
Church caretaker Brenda Hewitt, who runs Hope Restored, said the resort currently has about a dozen homeless people who sometimes sleep in the caves.
She is hosting a Christmas lunch on Friday at Gloddaeth United Church Hall for her service users who, she says, come from different backgrounds with a number of problems including addictions.
Mr Burton told the newspaper how he lost a flat found for him earlier in the year by Hope Restored following problems caused by people he knew hanging around.
He hit rock bottom again when his possessions were burned in the cave about a month ago.
"I am getting too old to be living on the streets," Mr Burton told the newspaper, explaining how the cave's conditions are cold, damp and dirty.
After the fire in the cave, Ms Hewitt provided a tent and other items and set about trying to find new accommodation.
She said she spoke to Mr Burton, whom she describes as very likeable, on Wednesday when she was able to give him some good news.
"I have managed to find him somewhere," she said, explaining how her help group which is funded by local donations was contributing to the bill.
"I told him yesterday that this is his last chance."