Blackmailing paramedic Eifion Howatson jailed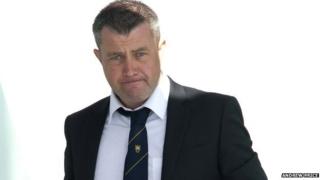 A paramedic who admitted blackmailing two married men over affairs with his girlfriend has been jailed for 10 months.
Eifion Howatson, 41, of Ruthin, said he was not in his "right mind" when he demanded £5,000 from them.
He threatened to expose the affairs but money was not handed over.
The judge said the victims suffered "emotional turmoil" but "probably shouldn't" have been involved with his partner, Caernarfon Crown Court heard.
"It's apparent you invested more in that relationship than she did," Judge David Hale said.
"When you discovered in June from her mobile phone that she was having affairs you decided to take a remarkable course of action in that you blackmailed these two lovers, seeking £5,000 from each of them.
"They were married family men who probably therefore shouldn't have been involved with your partner when they had been."
The victims, who cannot be named for legal reasons, "spent 40 hours in emotional turmoil", he added.