Controversial £600k Anglesey council plan to go ahead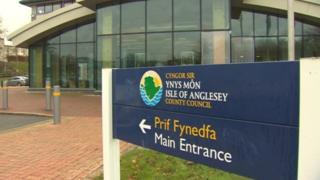 Controversial plans to spend around £600,000 on Anglesey council's headquarters will go ahead, despite concerns from opposition councillors.
It is part of a £1.5m project in Llangefni which involves selling a number of council buildings and some staff working from home.
Plaid Cymru group leader Bob Parry said voters would be concerned as services were being cut.
But council leader Ieuan Williams said it would create "substantial savings".
Officers have said the scheme would pay for itself in just over two years and will lead to annual savings of around £730,000.