Ex-councillor John Jones denies endangering RAF jets charges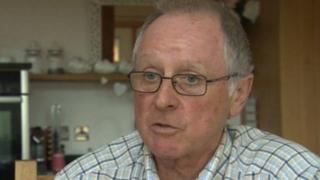 A former Anglesey councillor accused of shining lights at RAF jet pilots appeared in court on Tuesday.
John Arthur Jones, 64, denied recklessly or negligently acting in a manner likely to endanger Hawk jets at Holyhead Magistrates' Court.
Mr Jones, of Bodffordd, is accused of 13 charges involving shining lights at jets during night-time training touch-downs at the Mona airfield.
He was bailed and will appear at Caernarfon Crown Court at a later date.
A condition of the former Anglesey housing director's bail is that he does not shine a torch "or illuminating device" outside his home.