Rare whale rescued from Newborough beach found dead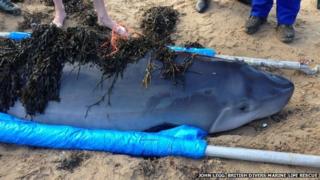 A rare whale rescued from a beach in Anglesey earlier in November has died.
The pygmy sperm whale was found stranded on a beach in Newborough.
The animal was refloated but Dr Peter Evans, director of the Anglesey-based Sea Watch Foundation, said at the time that there were concerns it would become stranded again.
A Sea Watch Foundation officer was called out on Wednesday when the whale's body was found on a beach at Dinas Dinlle, near Caernarfon, Gwynedd.
The organisation said it had been on the look-out for the whale, as previous strandings often indicate a serious illness in an animal.
Further investigations into how and why the sea mammal died will now be carried out by marine experts.