Protest over safety on A470 road near Dolgellau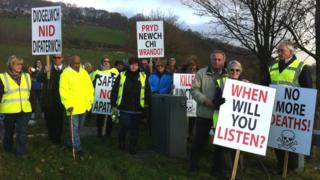 A protest has been held by motorists calling for a rethink of road layout changes following fatal crashes and a number of near misses at a busy junction in Gwynedd.
Around 30 campaigners gathered near the Bala junction of the A470 near Dolgellau, which saw two fatal crashes within six weeks of the changes.
More than 2,500 people have signed a petition and some want a roundabout.
The Welsh government said further improvements were being considered.
Local councillor Louise Hughes said: "It's made a bad situation a lot worse.
"They've put temporary traffic lights there which is an indication that something is wrong.
"There are acres of white lines - they call it hatching. As you drive they flicker and it's very distracting."
'Countless bumps'
Motorcyclist Kevin Haddock, 56, from Birmingham, died in a collision in July.
In May, John Roach, 83, of Irlam, near Manchester, died after his car collided with a refuse truck.
Lord Elis-Thomas, AM for Dwyfor Meirionnydd, has written to Transport Minister Edwina Hart regarding fears over the Dolgellau bypass.
Councillor Hughes said: "We've been calling for more than 30 years to have a roundabout put on that junction.
"It was always a bad road but since they changed the layout there have been countless bumps and near misses."
A Welsh government spokesperson said a temporary three-way traffic signal and 50mph speed limit had been put in place at the A470/A494 junction.
A CCTV system has also been installed to monitor traffic flows.
"We are committed to driver safety and are considering further improvements on this stretch of road with the installation of permanent measures scheduled to start in April," said the spokesperson.