Seals rescued at Wylfa nuclear power station at Anglesey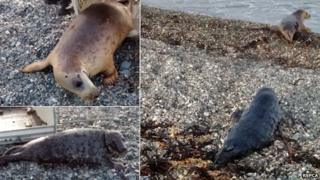 A grey seal and her pup have been returned to the sea unharmed after ending up inside Anglesey's nuclear power station.
Seals sometimes get dragged along by the strong currents Wylfa creates and slip through bars in the sea pipe and end up in the cooling chambers.
RSPCA staff put them back into the sea at nearby Cemlyn Bay.
"They had a quick sniff of each other and then they were off," said RSPCA officer William Galvin.