Barmouth teacher's £15k stolen mobile bill dropped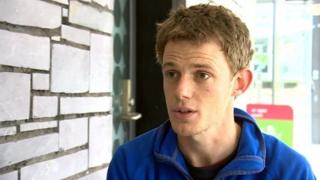 A teacher who faced a £15,000 bill which had been racked up by thieves who stole his mobile phone in Barcelona has won a battle not to pay it.
Osian Rhys Edwards, 29, of Barmouth, Gwynedd, called his mobile company immediately to cancel his phone after being pick pocketed.
But he was shocked to later receive the bill which had been created in just a few hours calling premium rate lines.
Vodafone waived the fee after a review of the case.
Mr Edwards feared his life would be on hold for the "next 10 to 15 years" because he could not afford to pay the bill and was afraid of being blacklisted by credit and mortgage companies.
Capped bills
But a lawyer took up his case for free.
Speaking last month after receiving the bill, Mr Edwards said: "£15,000 is a lot of money, added to the fact my life is on hold.
"Why should my life be on hold for something I was not responsible for?"
He added: "I'm facing financial ruin."
Mr Edwards is now calling for capped bills to be brought in to stop others from falling victim to criminals racking up bills on stolen mobiles.
A spokeswoman for Vodafone said it had waived Mr Edwards' bill following a "comprehensive review of the case".