Rare whale stranded on Newborough beach, Anglesey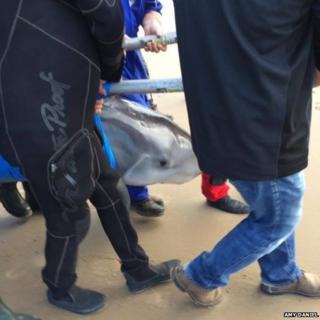 Rescuers have refloated a stranded whale after it landed on a north Wales beach.
They were called to Newborough on Anglesey amid reports a porpoise had become stranded.
Experts believe the mammal is a young pygmy sperm whale and was approximately six foot in length.
Dr Peter Evans, director of the Anglesey-based Sea Watch Foundation, said there are concerns the mammal could strand itself again.
He said the small mammals looked like a porpoise in size but had a distinctive shaped head.
Dr Evans said such sightings are very rare in British waters with a dwarf sperm whale spotted in 2011 off Cornwall.
The coastguard, RSPCA and British Divers Marine Life Rescue (BDMLR) were among the rescuers.
Phil Lewis, the Wales co-ordinator for the BDMLR and the RSPCA, said the whale was last seen at 14:40 (GMT) in deeper water, heading out towards the Irish sea.
Pygmy sperm whales are more common in the warmer waters off west Africa.
Mr Lewis added: "They are mostly found in southern waters.
"It is certainly a rare sight off Anglesey."