Guto Sion Jones admits prank claiming he was Everton FC founder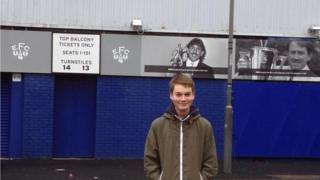 A Gwynedd man who edited a webpage and named himself the founder of Everton Football Club as a childhood prank has come clean nine years on.
Guto Sion Jones edited a Wikipedia page in 2005 when he was 10 years old and listed himself as the founder in 1865.
Now 19, Mr Jones had forgotten about his misdeed until he heard his name mentioned on American sport TV channel ESPN while at home near Caernarfon.
He said: "When I was 10 years old, I thought it would be a good idea."
But now a student, he admitted: "But now I confess it wasn't that great."
Mr Jones made his confession to BBC Cymru Fyw and said the time is right to correct the situation, but said he is unable to edit the Wikipedia page as he did almost a decade ago.
The Liverpool-based club was actually founded by the St Domingo Methodist Church Sunday School which played its first game in 1878 and changed its name to Everton the following year.
Mr Jones said he did not make the change maliciously and now studies at Liverpool University to be closer to his beloved Toffees.
"I've supported Everton since I was six-years-old, have a season ticket and go to see them away as well - Everton means a great deal to me," he added.
Everton FC declined to comment.