Porthmadog Coliseum's future decided after bat survey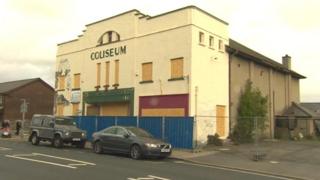 The future of an art deco cinema in Gwynedd remains uncertain until a bat survey is carried out.
Gwynedd council was supposed to decide on Monday whether plans to demolish the 83-year-old Coliseum in Porthmadog could go ahead.
It was closed in 2011 because of falling attendances and bought a year later by property developers who want to flatten the site.
A council spokeswoman said a full inspection must be held.
"The applicant must present a bat survey which includes a full inspection of the building before resubmitting the planning notice," she added.
Greater Manchester-based company Develop UK Northern says the existing building is "not commercially viable and is in a poor condition".
The firm says it wants to clear the site prior to winter and then to redevelop the plot "in due course".