Wayne Rowlands fell from moving van in 'prank,' inquest told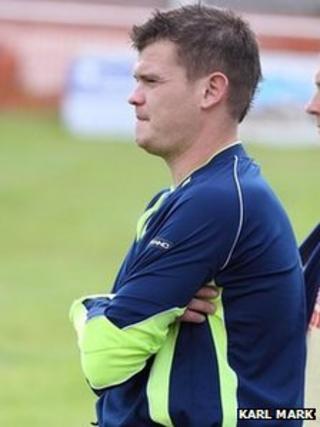 An Anglesey man who opened the passenger door of a moving van for a "prank" fell and suffered a severe brain injury, an inquest has heard.
Wayne Rowlands, 27, of Llanrhyddlad, was one of two passengers in the van on a country road on the island.
Fellow passenger Shaun Wharton told the hearing in Caernarfon, Gwynedd: "It's like he slipped on the seat. I don't think he jumped out."
Coroner Nicola Jones recorded a conclusion of accidental death.
The inquest heard the father-of-one, a keen amateur footballer, was sitting by the passenger door as the white Transit van travelled along a lane between Llanfaelog and Bryngwran.
The group were on their way to a pub and Mr Wharton said Mr Rowlands was "between tipsy and drunk".
'Rolled in road'
He said: "Everyone was taking the mick out of each other. He said 'watch this for a prank boys'. He has opened the door. I thought he was going to close the door."
Mr Wharton, who had been sitting between the driver and Mr Rowlands, added: "He has gone on the edge of the chair. I clenched the corner of his jacket. He exited the vehicle and rolled in the road.
"I said 'oh my God he's jumped'.
"It's like he slipped on the seat. I don't think he jumped out."
Plasterer Robert Jones, who was driving the van, the only vehicle involved in the incident, said he was doing about 40mph (65 kmph) when Mr Rowlands fell as they drove to a pub at Rhosneigr.
Mr Rowlands died later in hospital from head injuries.
Coroner Ms Jones said Mr Rowlands was twice over the drink-drive limit.
She added: "It is too far-fetched to say this is a prank where Wayne jumped out of the vehicle. I don't think he was that drunk."