Gasworks site 'gifted' to Aberdyfi for wildlife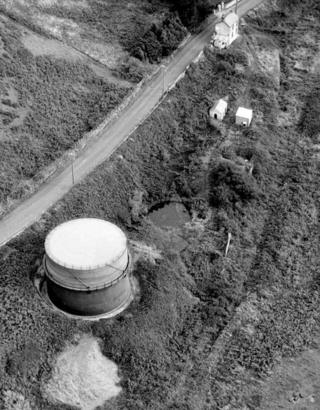 A former gasworks site in a Snowdonia village has been "gifted" to the area by National Grid as a green space.
Aberdyfi in Gwynedd once housed three gasholders before they became redundant and the works fell into disrepair.
National Grid has sold the site to the village's community council for £1 and paid for it to be replanted as a wildlife habitat and open space.
National Trust chairman Sir Simon Jenkins, who lives nearby, said: "It's a real coup for the village."
He added: "I'm proud that the village now has some leadership and has been able to put together this deal with National Grid."
National Grid said it was the first time it had gifted one of its former sites to a community in this way.
The gasworks was opened in 1865 and manufactured gas from coal as an energy supply for local homes and businesses until 1900, after which it was used to store gas generated in Tywyn.
'History'
"The discovery of offshore natural gas in 1969 led to the closure of many gas works, which then fell into disrepair," explained a National Grid official.
"For the last 20 years the site has remained vacant. During 2012-14 our specialist engineers gathered information about the by-products that were left on site before carrying out environmental improvement works to give the site a brighter future."
Community council clerk Neil Storkey said the area of grass with picnic tables and an information board would be trimmed regularly to replicate the site of a gasholder.
He said: "We want preserve its history but then allow it to get back to what it used to be 200 years ago.
"It's important to have conservation pockets even in a rural area. No matter how small, they are like hopping off places for seeds, wildlife and birds."