Missing Priscilla Berry: remains to be exhumed from cemetery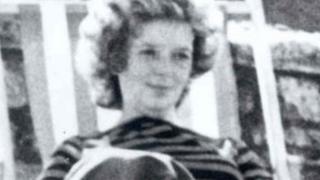 Police will exhume unidentified remains from a communal grave in a Conwy cemetery to see if they are those of a woman who went missing 36 years ago.
Priscilla Berry, 39, vanished from Mochdre in 1978 but police believe her body was discovered in the sea in 1980.
After tracing family of Mrs Berry, police want to test their DNA against remains in Llangwstenin cemetery.
North Wales Police officers hope to contact the family of the other two people buried in the grave.
Det Con Don Kenyon, who is leading the investigation, said: "Before we proceed I would like to speak with any family members and discuss our intentions, the process and address any concerns they have."
Also buried with the unidentified remains are Mary Davies, 60, who died at Llandudno Hospital on 25 October 1980, and Sidney Rogers, 60, a former hotel worker at the Portals Hotel, Vaughan Street, Llandudno, who died on 30 May, 1979.
Police are trying to identify several human remains discovered in the region over the past 50 years, including those of a man aged in his 30s whose body was recovered from the sea off Anglesey in 1983.
Criminality is not suspected in any of the cases.
Any relatives of Mrs Davies or Mr Rogers are asked to contact Det Con Kenyon ahead of the exhumation, which is set to take place in the new year.