Menai Bridge to Beaumaris road reopens after rock fall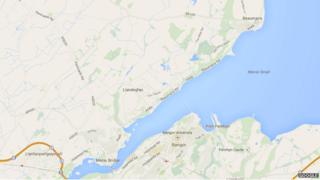 The main road between Menai Bridge and Beaumaris on Anglesey has reopened after a rock became displaced on the embankment above it, causing an eight-mile diversion.
The council closed a stretch of the road between Cichle Hill and Gallows Point from 18.00 GMT on Tuesday for safety reasons.
A crane had to be brought in to remove the boulder, which was thought to weigh about 20 tonnes.
The road reopened just after 11:00 GMT.