Work starts to help protect rare pearl mussels in Afon Eden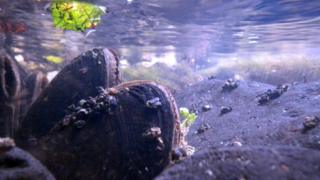 Work has started to help protect a rare freshwater shellfish in its last remaining stronghold in Wales.
The freshwater pearl mussel, which was once common throughout Europe, has its only population in Wales in the Afon Eden, near Trawsfynydd, Gwynedd.
Now workers are excavating land close to streams that feed into the Eden to improve water quality for the mussels.
They will create 11 ponds to act as a natural filter for nutrients and pollutants before they reach the river.
---
Freshwater pearl mussels - the facts
The freshwater pearl mussel (Margaritifera margaritifera) may live for more than 120 years, making them one of the longest-lived invertebrates
The species grows to 140mm in length
They burrow into sandy substrates, often between boulders and pebbles, in fast-flowing rivers and streams
Population declines have been caused by factors such as pearl fishing, pollution and declining salmon stocks
Source: Defra
---
Elain Gwilym, project officer for Natural Resources Wales, who is carrying out the work, said: "After excavating we will be planting 10,000 plants which will act as filters.
"One of the reasons freshwater pearl mussels have declined so much is because they are very sensitive to changes in water quality.
"This work will help redress the balance on the Eden and improve the habitat of this critically endangered species."