Three-week bin collection scheme gets under way in Gwynedd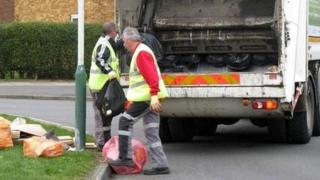 A controversial three-weekly bin collection scheme has been introduced in Gwynedd.
Food waste and recyclable products will be collected weekly but household rubbish will from now be picked up every 21 days instead of fortnightly.
The new collection scheme has been introduced in the Dwyfor area and will be rolled out across the rest of the country in 2015.
Gwynedd council approved the plan in April despite protests from residents.
The council said it would save it £350,000 a year as well as reducing landfill waste and encouraging recycling.
Fears have been raised over vermin problems, and some residents have concerns about the new recycling system which they've been trialling in recent weeks.
But officials say they are happy for genuine concerns to be raised, and the council - which says other local authorities are now considering a similar approach - is confident the new system will work.