BBC move to Bangor in WW2 staged in play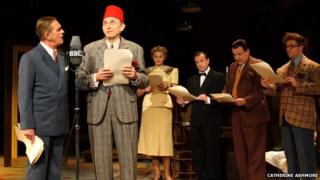 The transfer of the BBC's light entertainment department to Bangor during World War Two is being celebrated in a new stage play.
Programmes such as the radio comedy show 'It's That Man Again' were produced in north Wales from October 1940 to August 1943.
The move was to avoid them being disrupted by bombs dropped on London.
The play, Somewhere in England, is being staged at Clwyd Theatr Cymru, in Mold, Flintshire.
The name reflects the fact that most of the audience listening to broadcasts did not know where they were being made.
Actor Phylip Harries, who plays Mostyn the barman, said: "The title is very ironic, because it wasn't England at all, it was Bangor, north Wales.
"Some 400 BBC staff descended on the town in the early 1940s, and caused quite a stir."
The play imagines what would have happened off air when London-based actors found themselves mixing with Welsh-speaking locals.
Mr Harries added: "Initially, the townspeople were very wary of the BBC people, as they were of the townspeople.
"But very soon, some lasting friendships were forged between the BBC crew and the locals."
The play has been written by Mike James, who said he was surprised to learn that the BBC light entertainment department had been moved to north Wales.
"I didn't even know it was a true story," he said.
"I heard about it in the pub and didn't realise it was actually true.
"Incredibly few people know that all these staff were up in north Wales.
"These were huge stars. Vera Lynn was up here, Arthur Askey was in Bangor.
"It's the equivalent of the likes of Cheryl Cole walking around Bangor today."
The play also introduces a love story between two of the characters, and the actors sing and play music from the period.
Peter Rowe, the director, said: "The attraction of the production for me is this rich mix of unknown history that very few people know about, along with some fantastic music making and a powerful story.
"I particularly like the way that audiences get to see the radio sound effects being made live on stage, as they really were in the studio."
Sara Harris-Davies, another of the actors, said that she hoped the play, which runs until 8 November, would be well received by a local audience in north Wales.
"It's full of local references, from a trip to Colwyn Bay, to the time a bomb fell on the Maesgeirchen area of Bangor," she said.
"It's nice to hear Welsh being spoken on stage as well.
"There are English subtitles on the screen above."