WW2: Holyhead statue to celebrate Dutch links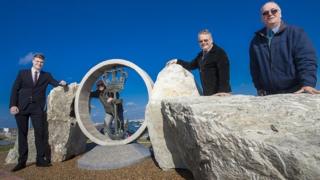 A statue has been unveiled in Holyhead to commemorate the links between Anglesey and the Netherlands during World War Two.
The memorial, made of stone, bronze, oak and concrete, stands above Newry Beach.
When Nazi Germany occupied the Netherlands during the war, their sailors formed a new naval base at Holyhead.
About 3,000 Dutch sailors came through Anglesey and many married local women.
Yesterday a Dutch ship moored in Holyhead harbour as part of the celebrations.
The new statue was unveiled by representatives of Dutch families in Holyhead and civic dignitaries.
"It's lovely what's happened here to commemorate our sailors. It's a very heart-warming story of how the Dutch came here and were so well received," said Daphne Thissen, cultural attaché at the Netherlands Embassy in London.
"It was an incredible story and the arrival of the sailors had a very positive impact on the community here."
A special service of commemoration will also be held at the town's St Cybi's Church on Sunday.