WW2: Dutch ship celebrates links with Anglesey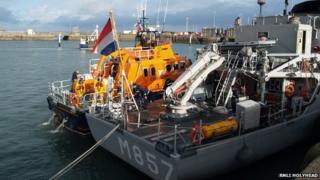 A Dutch ship has docked in Holyhead to celebrate the strong links between Wales and the Netherlands during World War Two.
After Nazi Germany took control of the Netherlands, the Dutch navy continued the fight from Anglesey.
About 3,000 Dutch sailors came through Holyhead during the war and about a hundred married local women.
The HNLMS Makkum was greeted by a flotilla of boats as part of a weekend of commemorative events.
On Friday a monument overlooking Holyhead harbour is to be unveiled.
When they were occupied during the war, the Dutch navy re-grouped in Falmouth, before establishing a naval base at Holyhead.
The base enabled them to keep shipping lanes open and consisted of a fleet of small converted trawlers as well as larger Dutch vessels, that came in on convoy escort duties in the Irish sea.
Suspicion
Peter Scott Roberts, a local historian and member of the Holyhead Maritime Museum, said the arrival of Dutch sailors in the war did not come without problems.
"When they came here there was always a great deal of suspicion, people were regarded as foreign," he said.
But he said close relationships soon developed, which can now be seen through the survival of Dutch surnames in Anglesey.
The new arrivals were ultimately "welcomed into their hearts and their heads".
It is hoped descendants of Dutch sailors will be in Holyhead to join in the celebrations.