£45m Pontio arts centre in Bangor cancels first show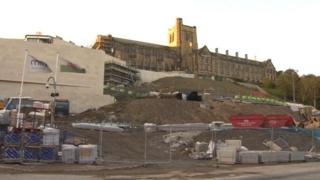 The opening show for the £45m Pontio arts complex in Bangor has been cancelled as the building is not ready.
It is another setback for managers who had already delayed the Welsh language national theatre's production of Chwalfa until February.
The Bangor University-owned venue said it has taken the "difficult and painful decision" to cancel the opening show.
The centre, which will include a theatre and cinema, was due to open in mid September.
Theatr Genedlaethol Cymru said it was disappointed that the show in the complex's new Theatr Bryn Terfel could not be rescheduled.
Chwalfa or "Upheaval" was based on the novel by T Rowland Hughes about a slate quarrying family at the turn of the 20th Century.
'Disappointment'
Local residents were involved in the production and had been preparing for months.
"Many of us - artists, professional theatre workers as well as members of the local community - have worked tirelessly and given so much to create this exceptional production," said the company's artistic director Arwel Gruffydd.
"We and Pontio will be seeking every possible opportunity to stage this work in the future. Unfortunately it was not possible for us to have assurances that Theatr Bryn Terfel would be ready for us to do so in the New Year."
Bangor University's vice chancellor Prof John G Hughes said they had held detailed discussions with the contractor and it was clear that work on the building project was unlikely to be completed in time.
"I fully recognise everyone's disappointment at this news but given the delays in the building schedule to date we have no other choice.
"We sincerely apologise to the hard-working cast, the crew and our audiences, and we share their disappointment."
The university is now working on a revised schedule with the contractors and said an announcement on the timetable would be made in due course.
Builders Miller have blamed "a challenging schedule" for the delay.
The centre will also house a new students' union, bars, a restaurant and an innovation hub.