Question marks over Porthmadog Coliseum cinema building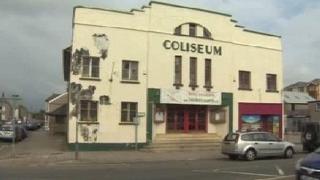 An 80-year-old cinema building in Gwynedd is back up on the market with new questions about its future.
A group tried to raise funds to reopen The Coliseum in Porthmadog after it closed in 2011 but that has now been wound up.
Local councillor Selwyn Griffiths said: "I've been trying to find out what is going on but no-one seems to know."
Mr Griffiths said he thinks it could be turned into a pub but hopes the distinctive front is preserved.
Campaigners had been hoping to lease the building from the shareholders who owned the building.
After going on the market last year, it has now been reported that the building up for sale with another property agent for more than £235,000.
Mr Griffiths said he was now doubtful the art deco cinema, which first opened in 1931, would re-open and he could find no plans in the pipeline for the building with Gwynedd council.
'Heartbreaking'
"The rest of the building needs a lot of work so I hope something is sorted out or it will go downhill fast," he added.
Aled Jones has wound up the cinema friends group but he hopes that the building could have a future as an entertainment venue.
"Given the state of Porthmadog in terms of entertainment, anything other than a cinema or arts centre would be disgrace.
"We don't need any more flats or a pub, but the community does need somewhere to go that's open after 5pm."
He said he had put three years into putting together the groundwork for a lottery application and business case, which was still ready to go if someone came forward with backing, for a cinema.
"It's not impossible - but if we lost this building it would be heartbreaking," Mr Jones added.
The property agent has been asked for comment.