Glan Conwy sewage plant 'horrid stench' protest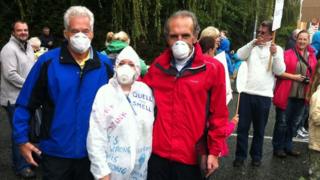 Residents of a village in Conwy county are calling for action to tackle a "horrid stench" from a local sewage works.
Dan Worsley, a community councillor in Glan Conwy, said the smell was so bad it "makes people heave".
A petition has attracted over 1,000 signatures and a protest was held on Saturday,
Dwr Cymru Welsh Water has apologised and said it was continuing to invest to improve the plant's performance.
Mr Worsley said it was "not just local residents who are affected, but even people passing on the A470".
"They've got to spend money to get it right... that's what it boils down to," he added.
Dry weather
Dwr Cymru said the plant, which serves 88,000 people in Old Conwy, Conwy and Glan Conwy, played an essential role in protecting public health.
"While we have been aware of historical odour issues with the works, we have only recently been made aware of the issues being experienced by the residents of Glan Conwy," the company said.
"We are, of course, very sorry to hear this and would like to sincerely apologise for any inconvenience caused."
The company said the recent dry weather could have contributed to the problem in slowing the rate at which the sewage reached the works.
A spokesperson said it had contacted local representatives "to help us better understand the situation", adding that they would continue to invest in the plant to improve its performance.
Dwr Cymru is urging anyone noticing an odour to contact them.