Rusting classic Jaguar excites car owners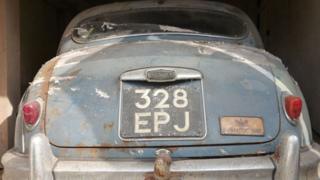 A rusting 50-year-old classic car, found in a garage in Conwy, has been sold for three times its estimate.
The Jaguar M1 saloon was in such a state it was decided not to move it to the sale.
It attracted interest from enthusiasts and the price went up to £1,600 before it was bought by a collector.
"The task of putting it back on the road will be a long one," said Christopher Proudlove, of auctioneers Rogers Jones Co.
The car was sold with its original service manual and a letter to the owner from the manufacturer in Coventry, dated 6 February, 1963, indicating he was leaving the Jaguar while going to the Far East.
It is not known what happened to it afterwards but the car was found in Deganwy.
A collector in Norfolk who owns and races Jaguars is now intending to returning the classic car to its former glory.