Woman rescued from a harbour at Britannia Bridge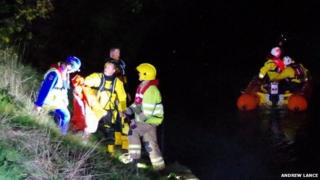 A woman has been rescued from a Gwynedd harbour after being spotted by a fisherman.
It is unclear how she entered the water at Britannia Bridge, Porthmadog, at about 00:40 BST on Tuesday.
Criccieth RNLI picked her up, cold and wet, from a parapet by the bridge.
Eyewitness Andrew Lance said: "I had just finished my shift at work and was walking by the harbour when I saw a girl in the water and a fisherman at the side ready to jump in to help her.
"The girl had fallen in, I don't know how. We called the police and the fire service. They turned up to rescue her, as well as the coastguard. It took them about an hour to carry out the rescue."
The woman was taken to a waiting ambulance.