Gareth Ritchie's biker death crash term cut to 18 weeks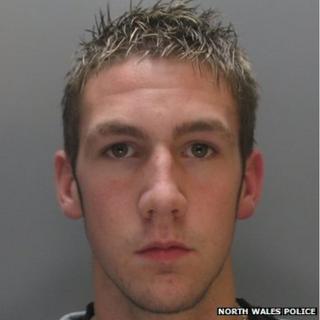 A driver jailed for ten months after his car span out of control and killed a motorcyclist has had his sentence and driving ban cut on appeal.
Gareth Ifan Ritchie, 23, of Caerwys, Flintshire, admitted causing the death of Christopher Davies, 52, by careless driving in August 2013.
Judges at London's Criminal Appeal Court said he had no history of bad driving and said the crash was caused by a "momentary action".
They reduced his sentence to 18 weeks.
Mold Crown Court had heard Ritchie lost control of his vehicle on a bend and crossed onto the wrong side of the road.
The car span out of control on the A5026 at Holway Road, Carmel, and Mr Davies had no chance to avoid it.
Lord Justice Elias, sitting with Mrs Justice Cox and Mr Justice MacDuff, said Mr Davies' death was a "real human tragedy" but the law could do nothing to offer any recompense to his family.
'Remorse'
Ritchie's lawyers said he had shown genuine remorse for what happened and argued his sentence was too long given that the accident occurred as a result of a "momentary act".
The whole incident lasted just a few seconds, the court heard.
Allowing the appeal, Lord Justice Elias said the case was extremely difficult to sentence and it was "bewildering" for a judge to try to understand how it could have occurred in the way it did.
He said it was caused not because of a failure to appreciate a hazard, but "rather a momentary action".
"Having said all that, it was a momentary action by a young man with no history of bad driving," he added.
As well as reducing his jail term, judges also cut Ritchie's two-and-a-half year driving ban to one year.